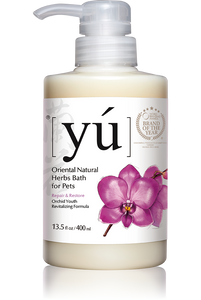 YU Lotus Soothing Formula Shampoo 400ml
YU, the unique pet care from Asia showcases an extensive line of grooming products that combines a rich blend of exceptional oriental herbs and flora.
YU grooming products are made with superior ingredients and formulated to ensure that your pet is not only pampered but healthy too.
YU Lotus Soothing Formula Shampoo gently cleanses and pampers your pet's skin and coat.
Specially formulated with Lotus essence, this shampoo calms and soothes irritations, leaving your pet's skin soft and comfortable.
Lotus extract contains vitamin A to reduce inflammation and Witch Hazel refreshes the skin and stops itchiness.
The mild and gentle fragrance leaves your pet pampered and soothed.
Ingredients
Lotus Extract, Witch Hazel, Allantoin, Vitamin B6 and Epilobium Fleischeri Extract .
Directions
(1) Wet your pets coat down to the skin.
(2) Apply an adequate amount of product onto the palm of your hand and rub into a soft lather.
(3) Massage thoroughly.
(4) Rinse off completely with clean water.
---
We Also Recommend
---