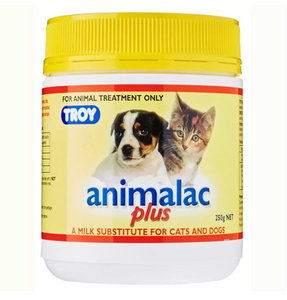 Troy Animalac Plus Milk Powder for dog and cats 250g
A balanced blend of fats, proteins, carbohydrates, vitamins, minerals and amino acids formulated to meet the nutritional needs of young and debilitated animals. Dissolve 1 measure powder/3 measures (15 mL) warm water. Feed orphan as much as it will comfortably consume, without forcing as overfeeding may cause diarrhea. 
Feed approximately 20 percent of the animal's bodyweight (grams) in mL daily. Divide the total daily requirement and feed over 4 to 6 feeds.100 g bodyweight: 20 mL (equiv. 1 measure powder/15 mL warm water).150 g bodyweight: 30 mL (equiv. 1.5 measures/22.5 mL warm water).250 g bodyweight: 50 mL (equiv. 2.5 measures/37.5 mL warm water).500 g bodyweight: 100 mL (equiv. 5 measures/75 mL warm water).
---
We Also Recommend
---