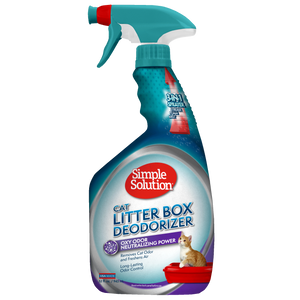 Simple Solution Cat Litter Box Odor Eliminator For Cats 945ml
EVERYDAY USE: Spray a light mist over the litter to control odours.

The odour-encapsulating formula eliminates the smell of soiled cat litter, leaving only a fresh scent.

LITTER CHANGES: Remove litter and excess waste from the litter box. Liberally spray the litter box inside and out. Wait 5 minutes.

The organic matter will break apart, allowing for easy removal. Using paper towels or old rags, wipe away all traces of waste. When the litter box is completely dry, fill with fresh litter and return to its original location.
---
We Also Recommend
---