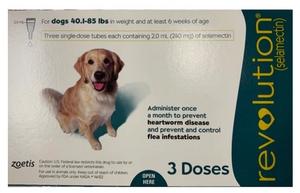 Revolution For Large Dog 20.1kg to 40kg (3 Dose)
Key Features:
Revolution is a prescription-only medicine, not a pesticide.

Broad-spectrum protection against most internal and external parasites.

Kills adult flea and their eggs.

Fast, simple, and easy to use.

Because of the low-volume dosage size, the solution can be applied in one spot.

Non-greasy, quick-drying preparation.

Bathing pet 2 hours after application does not affect efficacy.

Available in 3 convenient dosage sizes in no-drip disposable tubes.
Accepted Uses
Use against the following parasites in dogs 6 weeks of age or older: adult fleas, flea larvae, heartworm, earrings, sarcoptic mites, and American dog tick.

Murder of adult fleas and prevent the hatching of flea eggs for one month, indicated for the prevention and control of flea infestations (Ctenocephalides felis)

Dirofilaria immitis prevents heartworm disease.

Diagnosis and monitoring of the infestation of ear mites (Otodectes cynotis).

Sarcoptic mange diagnosis and control (Sarcoptes scabiei);

Control of infestations of American dog tick (Dermacentor variabilis)
Precautions:
Prior to administration, dogs should be tested for existing heartworm infections. At the discretion of the veterinarian, infected dogs should be treated to remove adult heartworms.

While the number of circulating adult D. immitis microfilariae may decrease following treatment, Revolution is not effective for microfilariae clearance.

In humans, may be irritating to skin and eyes.

In studies, less than 1% of dogs experienced digestive upset.

Do not use in sick, debilitated or underweight animals.

Flammable. Keep away from heat, sparks or open flame.

Keep out of reach of children.

Federal law restricts this drug to use by or on the order of a licensed veterinarian.
---
We Also Recommend
---