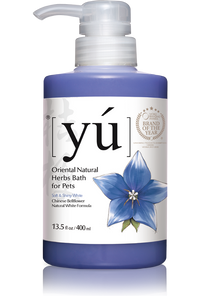 YU Chinese Bellflower Natural White Formula Shampoo 400ml
The Chinese Bellflower Natural White Formula Shampoo gently cleanses and pampers your pet's skin and coat.
Formulated with Chinese Bellflower and deep cleansing agents, this shampoo can remove build up in your pet's coat, bringing out the natural beauty of white-coated pets making them whiter and softer.

Chinese Bellflower is rich in antioxidants that can rejuvenates the skin and coat and have your pet looking younger and energised.
It also has anti-inflammatory properties that will soothe itchy or inflamed skin.
The warm and delightful notes of this aromatic shampoo will leave a mild, pleasant fragrance on your pet.

Ingredients
Chinese Bellflower Essence, Witch Hazel, Allantoin, Vitamin B6, Epilobium Fleischeri Extract.

Directions
(1) Wet your pets coat down to the skin.
(2) Apply an adequate amount of product onto the palm of your hand and rub into a soft lather.
(3) Massage thoroughly.
(4) Rinse off completely with clean water.

Suitable For
Cats & Dogs.

Made in Taiwan
---
We Also Recommend
---