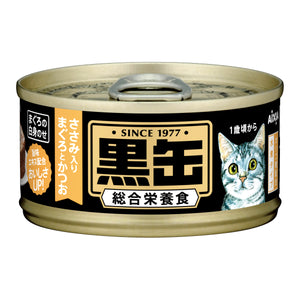 Aixia Kuro-can Mini wet food Tuna & skipjack w/Chicken Fillet 80g
One of the best-selling brand in Japan & Asia, Kuro-can contains all the goodness of dark muscle meat of tuna & skipjacks with white tuna meat topping.
Using high DHA Katsuo (skipjack) red meat topped with white meat from tuna, this is a diet is full of vitamins & minerals.
It is also especially rich in bioavailable iron, helping cats prevent anemia.
Aixia Kuro-can is a complete diet for your felines.
---
We Also Recommend
---