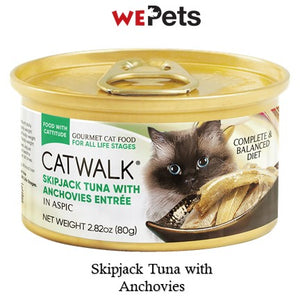 Catwalk SkipJack Tuna With Anchovies 80g
Nutrition is an important part of everyone's health, including cats'. So we make sure all Catwalk cat food varieties are complete and balanced for cats to help them live well.

Catwalk Tuna Wet Cat Food is made perfect for our gentle giants with big hearts and even bigger appetites! We've carefully created this tasty tuna recipe with flavorsome ingredients and topped them off with just a sprinkle of cattitude.

Tuna is an excellent source of omega-3 essential fatty acids, which may help maintain a healthy coat and skin for your cat.

---